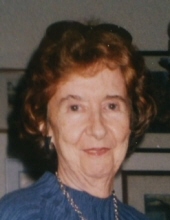 Obituary for MARJORIE T. BRADY
MARJORIE T. BRADY, born December 12, 1926, died July 16 at St. Mary of the Woods, her home since 2009. She was the cherished daughter of Alexander J. and Mary Z. (nee Padien) Brady and the "sweet big sissie" of Rita Brady Kiefer (Jerry). A Memorial Mass will take place at 11:00 AM on Thursday August 16th, in the Chapel at St. Mary's, 35755 Detroit Rd., Avon, Oh. Interment will be private.

"Who shall find a valiant woman?" The Book of Proverbs asks. When we recognize one, we praise her. When such a woman dies – though we mourn -- we want to celebrate her life with words meant to dwell deep inside those who hear her story. Think, for instance of Teresa of Avila or Monica or Joan of Arc, all who bear the name "Saint." History has remembered them mostly for one particular event or accomplishment. Those who knew each of these women intimately, however, could tell so much more. Marjorie/Marge Brady or "my big sissie" as I called her when we were little, did not have the title "saint" before her name. But she was the kind of woman Proverbs reflects on.



Most of you here probably remember Marjorie as a sweet, considerate woman who spent a good part of her day walking the halls, often stopping to meditate or attend daily Mass in this chapel. You may feel her presence in the very spot where you're sitting. Her life may have appeared quite unremarkable in the years since she came to St. Mary's in 2009. Only a few of her longtime friends could have understood what, in only the final ten or twelve years of her complex life, I was able to unravel: the mystery named Marjorie.



One day around two years ago, we sat on the loveseat in what we dubbed the bird room here at St. Mary's. I asked if I could write her story now that the pieces were beginning to merge for me. Marjorie leaned over, looked me in the eye and said with an intensity I hadn't heard for years: Rita, feel free to tell everything, she said. Tell it all. The bad and the good. Everything. That day she gifted me with permission to set her record straight. I didn't realize I would be sharing that story for the first time at her funeral.



December 12, 1926 after four miscarriages, a still birth and the loss of a three-day-old son, our parents welcomed Marjorie Therese, the child who finally made it. What saved this beautiful baby from allowing the spoiled child curse to shape the rest of her life was a genuine affection for others. Her drawers were filled with keepsakes signed by little third-graders she taught and counseled at St. Aloysius, St. Rose's and St. Christopher's. A number of their names reappeared through the years in letters and gifts and phone messages. A few became priests. One, a bishop.



Fast forward to that night in her mid-twenties. She is alone in the house reading her third graders' papers, her parents at Holy Thursday services. First a fist shatters the glass pane of the French door. Then a frantic chase through the living room out across the lawn of the Magnolia house back to the music room. His one huge hand is sealing her mouth, the other punching her face again and again. Inside the Magnolia house he throws her down on the loveseat. In a weak voice she gasps "Jesus, help me" at the same second the pipes begin knocking in the old walls. At those sounds he springs back then flees. She barely escapes being raped.



And only one or two privileged friends learned she fell in love with a priest our parents innocently invited to have Sunday dinners with them. When she heard he'd told a friend, "If Marjorie Brady would marry me, I'd leave tomorrow," she broke all ties, fearing the two of them might go to hell and that her father would die of a broken heart. That was the 1950's. Then 20 years later she agreed to be Maid of honor at the wedding of her younger sister. To a priest. A marriage not just approved but blessed by their father. Never once later did she hold this up nor show resentment to her sister.



Finally, how many -- other than those closest to her -- realized the battle she fought against an inherited gene? One that afflicted her with alcoholism, a disease that plagued her through her adult life. Marjorie survived and won the fight in 1971. She made it. This time to the victor's side where she remained until death.



So the Mystery of Marjorie has been unveiled as she wished it to be. That sweet woman who lived her last years in Apt. 303 of St. Mary of the Woods hid a story most of us, certainly her sister, could not imagine living in such a truly holy way. No, Marjorie did not bear the title "saint." My "big sissie" was a richly human being. One who made it despite the odds. A truly valiant woman.
Previous Events
Service
St. Mary of the Woods
35755 Detroit Road
AVON, OH 44011