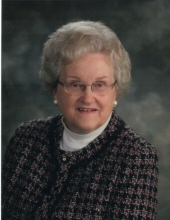 Obituary for LEONA GRACE "Nidi" MANNING
Leona (Nidi) Grace (nee Wierum) Manning, 95, died on February 8, 2018, at her oldest daughter's home in Seattle, Wash.
Leona was born in Spokane, Wash., to Howard F. Wierum and Leona Dietrich Wierum. When her family moved to Washington, D.C., she attended Georgetown Visitation High School and Junior College, graduating in 1942. She served as a secretary for the Georgetown office of the Manhattan Project and at the Federal Home Loan Bank Board, where she met John W. Manning of Cleveland, Ohio, a student at Georgetown University. They were married in 1943 in Washington while he was serving in the Merchant Marine during World War II.
Leona and John established themselves in Lakewood, Ohio, in 1950, and raised their family in St. Luke Parish. After her husband's death in 1983, Leona moved to Rocky River. In 1996 Leona moved to Issaquah, Wash., close to where three of her daughters and their families had settled.
Leona is survived by seven of her eight children: Susan Purcell (James), Seattle, WA; John Jr., Ocracoke, NC; Martha Membrino (Joseph), Cooperstown, NY; Maureen, NYC; Mary Purcell (Joseph), Singapore; Jane Tushar (Daniel), Sammamish, WA; and Elizabeth (partner, Michael "Casey" Ryan), Rocky River, OH. She is survived by 13 grandchildren: Rachel (Erik Henrikson), Matthew, Daniel (Jacquee), and Michael (Genevieve) Purcell, Anna and Michael Membrino; Joseph (Joscelin), John, Peter (Jessica), and Katherine Purcell; and Ian (Shannon), Luke (Kelsey), and Phillip (Jaclyn) Tushar; and 22 great-grandchildren. Leona is predeceased by her husband; her son, Michael, who died in 1983; and her half-brothers Otto Carl Wierum and Howard F. Wierum, Jr.

A funeral Mass will be held in Seattle on February 15, 2018. Arrangements for a private service and burial in Westlake, Ohio, have been made by McGorray-Hanna Funeral Home.

Donations in memory of Leona may be made to Catholic Charities or to Providence Hospice of Seattle.
Events
Event Information
Future private services to be held.
Memorial Contribution
Providence Hospice of Seattle
425 Pontius Ave. N #300,
Seattle, WA 98109