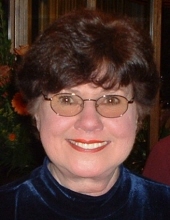 Obituary for SHIRLEY ANN DRISCOLL
SHIRLEY ANN DRISCOLL age 83. Loving mother of Gregg Jeffers and the late Daniel Jeffers (Pat Schmittle); dear grandmother of Tony, Kyle, Josh, and Christopher (deceased) and great grandmother of Layton Cole; sister of Coletta Speidel (William), and the late Nancy Pariano (Charles). Passed away Saturday January 27, 2018. Friends may call in the McGORRAY-HANNA FUNERAL HOME OF WESTLAKE 25620 CENTER RIDGE RD, (WEST OF COLUMBIA) FRIDAY 4-7 PM. PLEASE CHECK THE FUNERAL HOME WEB SITE FOR ADDITIONAL OBITUARY DETAILS – www.mcgorray-hanna.com. Interment service private. The family suggests memorial contributions to The American Cancer Society.

My mother was a cross between Lucille Ball, Carol Burnett and Mary Tyler Moore. And when she was angry with me (hardly ever), a little "Maude" came out. Those of you who really knew her I'm sure would agree.

My mother defined what it means to be a friend. She was a very good listener. She truly cared about you. The only time I think she was really mad at me was the time I took 2 1/2 weeks to call her. When I did call her, I tried to use the excuse that I had been traveling a lot. Which was true… but when she answered the phone after I said "Hi Mom!" she replied with "Who's this? It sounds like my son Gregg, but he would not wait this long to talk with his mother!" Clearly that never happened again.

I often found we would get on the phone and we would go sometimes for two hours without missing a beat. Then I finally introduced her to Skype, which was like giving the FBI information. You could see her examining my face and wondering: is he tired, is he getting enough sleep, did he get his hair cut, why is he chewing on his lip, or is the food he's eating as good as the sounds he's making. She would say "it sure seems that way!"

I was so, so lucky. She really never gave up the good fight even after her youngest son and sister passed. The strength I witnessed will always be with our immediate family and her work families at Arter & Hadden and Tucker Ellis. For years I heard about her work accomplishments and now I am comforted by comments from her former co-workers. :

• She was the Receptionist at Arter & Hadden and Tucker Ellis from 1972-2014. During that time she wore many hats.
• Daffodil Day – An annual event in which daffodils were sold to raise donations for the American Cancer Society. This event was made possible by her willingness to coordinate the volunteers and manage the entire day. She helped the firm earn several awards for being the top-selling team for downtown Cleveland.
• She coordinated HoneyBaked Ham orders for Easter, Thanksgiving, and Christmas. People really appreciated the convenience and she loved to accommodate even the last minute requests to help make holiday meals special.
• She was a member of "The Harpies," a group from the office who would meet at The Harp for dinner periodically.
• She loved to dine with friends at the Lake House.
• Mom to us all, supplying sewing kits, Band-Aids, antacids, aspirin, safety pins, dryer sheets for static, baked goods, chocolate rolled wafers, you name it!
• The face of the firm who knew every client by name.
• Her bright smile was a pleasure for all who entered the reception area.
• She had a way of making all guests and clients feel welcome and appreciated.
• She had the gift of gab and could talk to anyone about anything and she just made you laugh and be happy to be around her.
• Her witty comments were sure to bring a smile or a belly laugh.

There are a few of you who really were able to support her by taking her to Doctor's appointments, shopping, etc., and I'll follow up personally with each of you later. I'm confident this support system, along with her will to live, contributed significantly to extending her life. Once my mother was placed in hospice care, the Augsburg staff vowed to take care of her for her remaining time. As they would call it, to "bring her home." The culture of these folks and the relationship they had with my mother certainly was unique. Having said that, the common theme here is the impact she had on anyone and everyone with whom she interacted.

While my Mom had an enormous impact on my life and the lives of my family, I have also heard she had the same impact on so many of you. I know that she would consider it an honor if you would take that warmth, sincerity and interest in each other and pay it forward.
Previous Events
Visitation
McGorray-Hanna Funeral Home of Westlake
25620 Center Ridge Road
Westlake, OH 44145