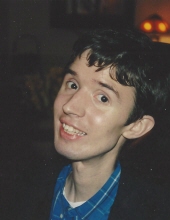 Obituary for TIMOTHY ALLEN MELTON
Timothy Allen Melton age 34, of Rocky River, OH passed away peacefully on January 21,2019 from complications of a life-long illness with Duchenne Muscular Dystrophy. Tim is the beloved son of Al and Donna Melton. Loving brother of Sarah Anne Rish (Wesley). Loving uncle of Josephine and George Rish.
Beloved grandson of Alton and Ginger Melton and Thomas and Evelyn Tasselmyer.
Loving nephew to Joseph Melton (deceased) (Cindy), Tom Tasselmyer (Laurie), Judith Oehler (Kevin), Lynn Olson (Steve) and cousin to Laurel, Jackson, Andrew, Michael, Stephen, Matthew, Kristin, Erik, Ellen, Mary and Anne. Faithful friend of many.
Tim was born in Gainesville, FL and lived briefly in Durham, NC and Atlanta, GA until he moved with his family to Rocky River, OH where he was raised and remained until his death. Tim is a 2003 graduate of Rocky River High School and a 2007 Summa Cum Laude graduate of Case Western Reserve University with a degree in Anthropology and International Studies. Despite extreme physical limitations from muscular dystrophy Tim's mental capacity was outstanding and his determination to know and learn as much as he could throughout his life was inspiring. He was the "go-to" encyclopedia of his family. Interests included: Nature, Biology, Geography, People and Culture, Politics, Astronomy, Technology, Robotics, Norse Mythology, Music (esp. Blues, Gospel and Rock n Roll), Visual Art (esp. Kandinsky), Performing Arts (esp. his sister Sarah's performances), Comic Books, Super Heroes, Sci-Fi books (Isaac Asimov), Star Wars movies, James Bond movies, Indiana Jones movies, World War II history, American History (favorite president: Teddy Roosevelt), The writings of C.S. Lewis, Comedy TV (Seinfeld, The Office, Big Bang Theory), World Heath Issues, Watching and attending sporting events(esp. CLE Indians baseball, CLE Browns football, CLE Cavaliers basketball, ACC College basketball- UNC, DUKE, NC State, FL Gator football, and Hurricane hockey).
Tim's personality was reserved and shy yet, witty and endearing. He was a wise man and a "wise guy". Tim was never bitter despite his illness and his Christian faith never faltered despite his struggles. Those who knew Tim will forever remain inspired by his courage and grace.
Funeral Mass at St. Christopher Church (20141 Detroit Rd., Rocky River, 44116) on Saturday, February 16 at 11:00am. Private interment at a later date. Family will receive friends in the Gathering Area at St. Christopher Church on Saturday morning at 10:00 am until Mass time. In lieu of flowers Tim has asked that you perform a random act of kindness in his memory.
Previous Events
Visitation
St. Christopher Church
20141 Detroit Rd.
Rocky River, OH 44116
Service
St. Christopher Church
20141 Detroit Rd.
Rocky River, OH 44116