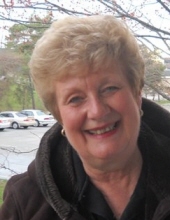 Obituary for KAREN M. JOYCE-SIEGWARTH
Karen Mary (Christine) Harlan Joyce-Siegwarth

Born: Cleveland, Ohio, February 3, 1942
Passed: At home in Westlake, Ohio, December 25, 2018 (Age 76)
Battled Metastatic Breast Cancer for many years
Parents (deceased): Lester and Mildred Harlan
Husband: Bob Siegwarth (married 13 years)
Late Husband: Tom Joyce (married in August 1964)
Children: Patrick Daughter-In-Law: Denise
Kathy Son-In-Law: Dave
Grandchildren: Mary
Sarah
Aidan
Peter (deceased)
She also enjoyed 7 step-children and 10 step-grandchildren with Bob
• Childhood: Largely centered around family. Karen was an only child to Les and Mil, but enjoyed a very close relationship with her many cousins. She loved attending all family gatherings and celebrations.
• High School: Notre Dame Academy (Ansel Rd. in Cleveland then in Chardon) and loved spending time with her close friends and graduated in 1960.
• Married: Tom Joyce in 1964
• Children: 1965 (Patrick) and 1966 (Kathy)
• Close with Parents: Karen chose to share a duplex home with her parents. She spent much of her time devoted to taking care of her entire family. Her mother was her closest friend and confidant for much of her life.
• The Best Mom: Karen devoted herself to her children and always put their wants and needs ahead of her own. She was widely known by all of her childrens' friends as the greatest Mom (several of them called her "Ma") and truly loved them like her own. In the neighborhood Karen was always the mother who took all the kids to the mall, the movies, the ice rink, wherever they needed to go. She loved spending time with the kids and they all felt loved by her.
• Fun Loving: Karen loved a very active social life. She was always excited to be with family and friends for all kinds of events. When her children were young she spent much of her free time, joining other family members and friends to take all of the kids to the zoo, summer fun at Brunswick Lake, and parties.
• Sense of Humor: Karen had a very witty and silly sense of humor and had a really great laugh. It was very common for her to find the silly side of anything and often laughed until she cried.
• Cooking: Karen was a great cook and loved hosting holiday dinners and parties.
• Elegant: Karen was always impeccably dressed and known for her perfectly coiffed hair. She carried herself with elegance always.
• Work: Karen spent most of her adult life as a Credit Manager and enjoyed working for many years at Certified Chemical Company. She had a very strong work ethic and was an excellent example to her children.
• Lakewood Elks Lodge. Karen was a proud member of Lakewood Elks Lodge # 1350. After raising her children she spent much of her time socializing her close friends at the Elks and volunteered at many of their charitable functions. After her employer, Certified Chemical closed, she worked for several years doing the books at the Elks Lodge part-time until her retirement.
• 2nd Husband Bob: After the loss of her husband, Tom, in 2003, Karen was very happy to be surrounded by the love of her friends. In particular, Bob Siegwarth, with whom she had a years-long friendship from the Elks Lodge. Bob and Karen spent a lot of time together in the following months and their friendship became a deep love for each other. They were married at St. Christopher Church in Rocky River in September 2005. Karen and Bob did absolutely everything together and she often talked about her retirement years being the some of the happiest times of her life.
• Vacations: Karen loved vacations and loved her Super Bowl Cruises (several years) as well as family vacations in Tennessee and St. Simon's Island, Georgia.
• Strong and Brave: While Karen faced repeat breast cancer diagnosis (1997, 2007 and 2014), she faced the illness head-on and fought with quiet courage. She had an amazing outlook and didn't even blink an eye when she lost her hair, which, for her, was the thing all who knew her thought would bother her the most. It didn't. She demonstrated courage and grace through her entire battle and never complained about her illness. She was a warrior in the true sense of the word.

She spent her weekly chemo treatments laughing with Bob and Kathy while receiving treatment. The nurses at Seidman Cancer Center often commented that they had never seen someone have so much fun while undergoing chemo!
• Last Weeks and Days: Karen entered hospice care the day before Thanksgiving. She kept on smiling through it all and loved being surrounded by her family. She never complained once through all of the hard times. She was upbeat and happy. She cared more about how everyone else felt than how she felt herself. On Christmas morning she passed peacefully.

Funeral Mass, St. Bernadette Church (2256 Clague Rd., Westlake) Saturday, Dec. 29th at 12:00 pm Noon. Interment Private Lakewood Park Cemetery. Friends may call at the McGORRAY-HANNA FUNERAL HOME OF WESTLAKE (25620 Center Rd., West of Columbia Rd.) FRIDAY from 5 – 8 pm. Family Suggests memorial contributions to Hospice of the Western Reserve. Lakewood Elks Lodge Services Friday Evening at 7:30 pm at Funeral Home.
Previous Events
Visitation
McGorray-Hanna Funeral Home of Westlake
25620 Center Ridge Road
Westlake, OH 44145
LAKEWOOD ELKS LODGE SERVICES FRIDAY EVENING AT FUNERAL HOME AT 7:30 pm
Service
St. Bernadette Church
2256 Clague Road
Westlake, OH 44145
Memorial Contribution
Hospice of the Western Reserve
P.O. Box 72101
Cleveland , OH 44192